About the Series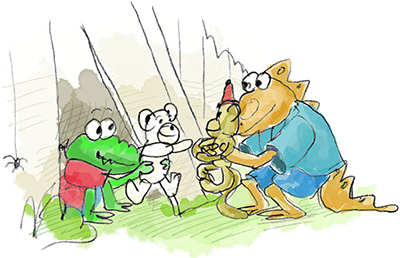 Raymond and Sheila Stories offer big adventures for Pre-K–3rd graders. Take one shy, observant 5-year-old, add a loving connection with his big-time dramatic sister, and there isn't any tight or ticklish situation they can't get into or out of! What's up with Raymond and Sheila? They're just your typical young alligators trying to answer life's big questions . . . like the ones in our current and upcoming titles:
The Raymond and Sheila series is for parents and kids to enjoy together. On the last page of each book we've included a unique parent guide to help young readers engage in the stories' emotional content. Talking about feelings and the challenges of getting along with others, increases children's social skills and improves parent-child communication too.
From the Author
"I've been answering email from kids around the world since 1997," says internationally known children's author and parent educator, Annie Fox. "For children of any age, nothing matters more than having friends. Parents do a great job teaching toddlers to 'be nice.' But as friendship conflicts become more complex, kids are left to figure things out on their own. The results don't often lead to constructive learning. By telling an engaging story about kids being kids, complete with a set of positive messages, readers can learn something about what it takes to have a friend and to be a friend."

Raymond and Sheila's peaceful day at the beach turns into a wild goose chase involving a flying teddy bear in distress, a disappearing ice cream truck, and a couple of sly boa constrictors. Is there such a thing as too much adventure? All they were trying to do was keep an eye on their "valuables" without losing sight of what's really important!
Now available for Kindle and in print. Now also available in Spanish. Find out more about this book »





Raymond Alligator is a super smart, super shy 5-year-old who feels left out when big sister Sheila has a friend over. He and his teddy bear are tighter than tight, but lately Raymond's wondering if he needs someone else to be his friend. Making a new friend sounds like a great idea but, well, it can also be kinda scary.
Are You My Friend? is a spot-on, funny picture book sure to draw in every kid (and adult) who has ever longed to peek over the neighbor's fence and bust out of their comfort zone. Are You My Friend? is a story for the heart and the funny bone, sure to resonate with typical 4-8 year olds, kids with special needs as well as reluctant readers. Whimsically illustrated, the story features music and sound effects with Read-It-To-Me audio narration. It also includes a unique guide for parents to help their kids increase friendship skills and social and emotional learning. Now also available in Spanish. Find out more about this book »