Are You My Friend?
Raymond Alligator is a super smart, super shy 5-year-old who feels left out when big sister Sheila has a friend over. He and his teddy bear are tighter than tight, but lately Raymond's wondering if he needs someone else to be his friend. Making a new friend sounds like a great idea but, well, it can also be kinda scary.
Are You My Friend? is a spot-on, funny picture book sure to draw in every kid (and adult) who has ever longed to peek over the neighbor's fence and bust out of their comfort zone. Are You My Friend? is a story for the heart and the funny bone, sure to resonate with typical 4-8 year olds, kids with special needs as well as reluctant readers. Whimsically illustrated, the story features music and sound effects with Read-It-To-Me audio narration (included in the iBook and Android, nabi tablet versions, available as a free MP3 download for the print edition).
The Raymond and Sheila series is for parents and kids to enjoy together. Included in each book is a unique Parent Guide for helping kids engage more fully in the story's emotional content. Talking about feelings and the challenges of getting along with others builds social skills and improves parent-child communication.

Print Edition

The Print Edition of Are You My Friend? can be purchased on Amazon's CreateSpace. A free preview PDF is also available.
Read-It-To-Me iBook

The Are You My Friend? iBook (for iPhone, iPad, and iPod Touch) is available for download on the iTunes iBookstore for $2.99 USD. A free preview iBook is also available.
iBook Screenshots
iOS Device Requirements
iPad, iPhone (3G or later), or iPod touch (2nd generation or later)
iBooks 1.3 or higher (free eBook reader app from Apple)
The free Sample can only be sent to iBooks on your devices running iOS 4.3.3 or later that have Automatic Downloads enabled.
16 MB
iBook Available in these Countries
Are You My Friend? is available through iTunes in these 32 countries: Australia, Austria, Belgium, Bulgaria, Canada, Cyprus, Czech Republic, Denmark, Estonia, Finland, France, Germany, Greece, Hungary, Ireland, Italy, Latvia, Lithuania, Luxembourg, Malta, Netherlands, Norway, Poland, Portugal, Romania, Slovakia, Slovenia, Spain, Sweden, Switzerland, United Kingdom, United States
Read-It-To-Me Android Book Apps

The Are You My Friend? app is available on Android, Kindle Fire, as well as the nabi tablet for $2.99 USD. For the nabi, just go to the "App Zone" on your nabi and download it!!
Spanish Edition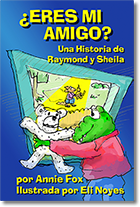 The print edition of Are You My Friend?, entitled ¿Eres Mi Amigo? is now available in Spanish and can be purchased on Amazon's CreateSpace or as a Kindle ebook. A free preview PDF is also available. (Note: there is no audio soundtrack available for the Spanish edition.)

Raymond el Caiman, es un niño super tímido que tiene 5 años y se siente ignorado cuando su hermana mayor Sheila invita a una amiga a la casa. Él y su peluche son los mejores amigos pero Raymond se pregunta si él necesita que alguien más sea su amigo. Conseguir un nuevo amigo suena como una buena idea pero, pues, también puede ser miedoso.

¿Eres Mi Amigo? Un acertado libro de ilustraciones, que seguramente será fascinante para cada niño (y adulto) que siempre ha querido mirar al otro lado de la cerca de su vecino y salir de su zona de comodidad. ¿Eres Mi Amigo? es una historia para el corazón y el sentido del humor, que con seguridad va a resonar con chicos típicos de entre 4 y 8 años, y chicos con necesidades especiales al igual que lectores apáticos. Ilustrado de una manera juguetona, el libro también incluye una guía especial para que los padres les ayuden a sus hijos a aumentar sus destrezas para conseguir amigos y su aprendizaje social y emocional. ¿Eres Mi Amigo? también está disponible en inglés (en formato impreso y para el Kindle) como un Read Aloud iBook (para el iPad, el iPhone y el iPod Touch) en la tienda iTunes iBookstore.
Privacy Policy

The Are You My Friend? app does not access your contacts or web history. Electric Eggplant does not collect any personally identifiable information through the app. The app does not contain any ads, in-app purchases or social network integration.
We used the Corona SDK to develop the app. Corona tracks your usage and collects the following types of information from you when you use our app: your IP address (including country of origin), app version, device operating system (including version), device make and model, UDID or other unique device identifier (only in anonymized form—i.e., not associated with any other personally identifiable information), and the current time each time you launch the app. You can read Corona's privacy policy here.
The Are You My Friend? app saves its state to your device when it exits, so it can be restarted in the same state (for example, on the same page in the story). This is recommended practice for a mobile app. This data is not transmitted and it is not associated with any identifying information.
The app does include external links in the About section.
For more information about our Privacy Policy, please contact us.